Glorious Greens
Green vegetables are the foods most missing in modern diets. Learning to cook and eat greens is essential to creating health. When you nourish yourself with greens, you will naturally crowd out the foods that make you sick. Greens help build your internal rain forest and strengthen the blood and respiratory systems. They are especially good for city people who rarely see fields of green in open countryside. Green is associated with spring, the time of renewal, refreshment and vital energy. In Asian medicine, green is related to the liver, emotional stability and creativity.
Nutritionally, greens are very high in calcium, magnesium, iron, potassium, phosphorous, zinc, and vitamins A, C, E and K. They are crammed with fiber, folic acid, chlorophyll and many other micronutrients and phyto-chemicals.
Some of the benefits from eating dark leafy greens are:
blood purification
cancer prevention
improved circulation
strengthened immune system
promotion of healthy intestinal flora
promotion of subtle, light and flexible energy
lifted spirit and elimination of depression
improved liver, gall bladder and kidney function
cleared congestion, especially in lungs by reducing mucus

Cucumber Melon Juice
Ingredients: 2 cucumbers, ½ honeydew melon, 3 leaves kale, 2 limes (optional)

Here are some ingredients we love in our green smoothies:
Leafy greens (kale, collards, spinach, watercress)
Avocado
Banana
Dates
Walnuts, cashews, or Brazil nuts
Almond butter
Coconut oil
Coconut
Spirulina powder (also green!)
Chia seeds
Hemp seeds
Berries
Raw cacao powder or cacao nibs
Non-dairy milk, nut mylk, water or coconut water
Create your personalized favorite! (Thank you - KICKING CANCER in the KITCHEN)

GREEN SMOOTHIE BASIC
Serves: 1
Ingredients:
1/2 banana, peeled
1 leaf kale or collards or handful spinach
1 Tbsp. almond butter or walnuts
agave nectar or honey – to taste
water or rice or almond milk or coconut water
Directions:
Place all ingredients in blender.
Put cover on.
Blend until smooth, keeping one hand on cover while machine is on.
Add ice or more liquid as desired.
Celebrate!
No processed sugar
No food dyes, artificial coloring
No dairy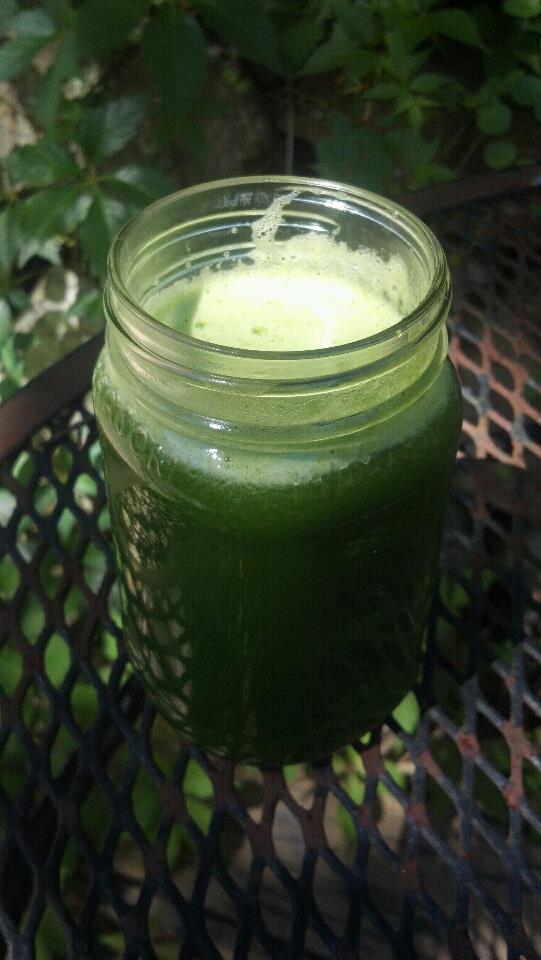 Good Morning Green Goddess Elixer
Begin every day with this easy kick start juice!
Serves: 1:
Give or get a juicer, and become an addict of the green and glorious you that only you can make you become!
Ingredients:
2 - 3 stalks celery
2 - 3 leaves kale or collards
1/2 - 1 cucumber
1 green apple
1 lemon or lime, peeled
Kick It Up: Add a clove of garlic, cilantro, cayenne, tumeric - your choice!
Directions:
Juice all ingredients in juice machine of your choice.
Best consumed within 15 minutes of juicing.
Keep in glass mason jar with tight lid, if refrigerating before drinking.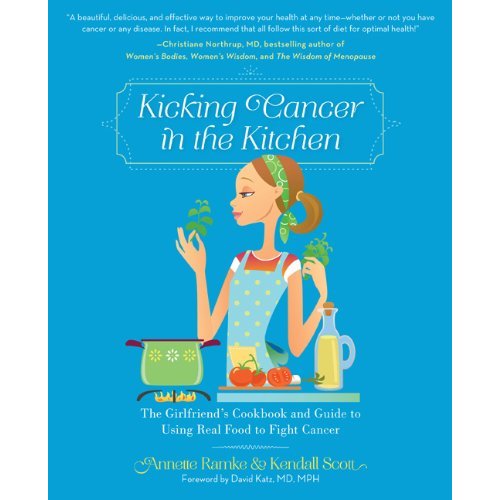 Mint Chocolate Chip Smoothie (KICKING CANCER in the KITCHEN)
Yield: 20 ounces
Ingredients:
1 frozen large banana, very ripe
1 tablespoon cacao nibs
6 - 8 drops pure peppermint extract
11/2 cups coconut milk
1/2 cup baby spinach, packed
1 tablespoon raw cacao powder
1 tablespoon maple syrup or honey
Mint leaf sprigs
Directions:
Add all ingredients to blender and mix at low speed for 30 seconds, then medium speed for another minute until smooth. Add three to four mint leaves if desired and blend for a few more seconds. Pour into a glass and garnish with sprig of mint leaves.
Get your greens on and use lettuce, kale, collard greens as a wrap!
Red Pepper Hummus in Collard Green Wrap
1 can cooked chickpeas (15 ounce)
1/4 cup roasted red peppers
1-3 cloves garlic
3 tablespoons tahini
1/2 teaspoon sea salt
2 tablespoons olive oil
1 lemon, juiced
Place all ingredients in food processor and combine until smooth. Use as a spread for healthy sandwiches. Add sprouts, micro-greens, lettuce, tomato or other garden fresh vegetables! Spread hummus on a collard green, add shredded carrot & red onion and roll like a wrap! Add fresh parsley for a light flavor.
Tahini and sesame paste are ground sesame seeds high in fiber, iron and calcium.
GROW YOUR GREENS AT HOME
"Boost Your Health from a Box, a Square Foot Gardening Box!"