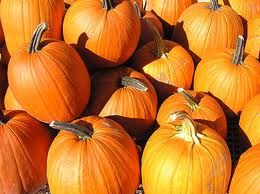 It's the perfect time of the year when we can bring the pumpkins that have been decorating our doorstep and stonewall into the kitchen! Simply bake, puree and freeze or use right away in this delicious, better for you pumpkin pie recipe.
This is a fine one that brings the whole pumpkin to the table.
Any size can be baked whole or halved in your oven and simply pureed to use in one of your favorite pumpkin recipes. Yes, we are talking about adding pureed pumpkin to your favorite pancake recipe or pumpkin bread, maybe even a Pumpkin Spice Smoothie and of course, pumpkin pie!
The inspiration for this favorite creation of mine came from the concept of considering the whole food - the pumpkin, and it's whole self. Why not incorporate nutrient & protein packed pumpkin seeds into the whole pie picture?
Very proud to say that this recipe was submitted to my nutrition school,
The Institute for Integrative Nutrition
several years back and was featured in their IIN Holiday Season Recipes ebook and that it was made available to ALL graduates to additionally include on their websites! So, just for fun simply google "Pumpkin Pie with Pumpkin Seed Crust Amie Guyette Hall" and you'll meet even more fabulous health coaches who are passionate about helping others eat well and live a life they love.
Happy Thanksgiving, everyone!
With gratitude and thanks,
Amie
PUMPKIN PIE with PUMPKIN SEED CRUST
Prep Time: 15 minutes
Prep Notes: View DIY pureed pumpkin video - next to this post on home page. It's easy!
Cooking Time: 60 minutes
Yields: 8 people
INGREDIENTS:

Crust
1 cup spelt flour, plus more for rolling the dough
1/3 cup hulled, raw, unsalted pumpkin seeds
1 Tbsp. maple syrup or agave nectar
1/4 tsp. sea salt
4 Tbsp. cold unsalted butter, cut into bits
1 tsp. apple cider vinegar
2 tsp. - 1 Tbsp. cold water
Filling
2 farm fresh eggs
15 - 16 ounces fresh, baked or steamed pumpkin pureed until smooth
1 cup farm fresh milk, or almond or rice milk
1/2 cup maple syrup or agave nectar
1 1/2 tsp. ground cinnamon
1 tsp. freshly grated nutmeg
1/2 tsp. ground allspice
1/2 tsp. salt
1 tsp. vanilla extract
Optional: Serve with sweetened whipped cream or raw banana ice cream and sprinkle with pumpkin seeds for garnish.
DIRECTIONS:


Crust
1. Put the flour, pumpkin seeds, and salt into food processor with fitted metal blade. Process until pumpkin seeds are finely ground.
2. Add the butter and pulse until mixture resembles coarse meal.
3. Add maple syrup, vinegar & cold water and pulse until mixture clumps.
4. Roll into ball and flatten on parchment paper pressing into a large flat circle and chill until firm, about 30 minutes.
5. Preheat oven to 400°.
6. On lightly floured board, roll dough into a 12" circle and transfer to 10" pie plate pressing into bottom and up sides. Finish edges. Prick with fork in several places. Line with parchment paper or foil and weight with dried beans or rice. Place in oven for about 10 - 12 minutes. Remove from oven and let cool. Lift parchment or foil and weights and remove them from baked shell. Set aside.
7. Reduce oven temperature to 350°.
Filling
1. In mixing bowl, place egg, pumpkin, milk, maple syrup or agave, cinnamon, nutmeg, allspice, salt, and vanilla.
2. Whisk until smooth.
3. Pour into baked pie shell.
4. Bake until filling doesn't jiggle. About 35 - 45 minutes. Set pie on rack.
5. Serve room temperature or chilled with whipped cream and whole pumpkin seeds if desired.
Notes:
Variation for Crust: Use unsalted sunflower seeds or walnuts in place of the pumpkin seeds.
Variation for Filling: Use canned pumpkin.
Courtesy of "The Square Foot Gardening Health Coach" Amie Guyette Hall, CHHC, AADP
© From Your Inside Out 2016, All rights reserved
Amie Guyette Hall, CHHC, AADP