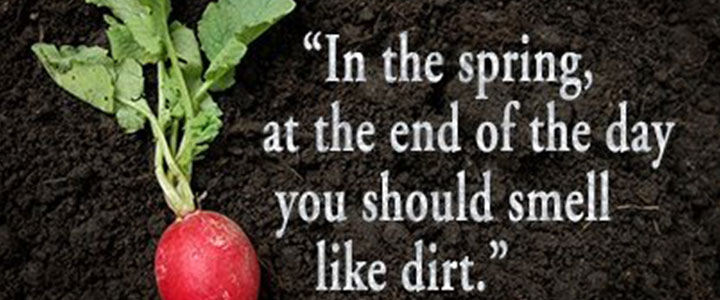 Mmmmmm...Got dirt?
Hope so!
Well, certainly after a long and what many consider a "wonderful" Winter - Spring has sprung! So, it's time to get down and dirty. Birds do it, bees do it, our growers, gardeners and farmers do it and so can you. All ages and all abilities should - for that matter.
Growing up in the house that Dad built in 1949 located in Schenectady, NY - Rotterdam, really, on a dead end street, the youngest of 3 - some of my fondest memories are just that - when we smelled like dirt. Beyond playing kick ball in the road and hide 'n seek endlessly into the darkening dusk, it was our larger outdoor front & back yard playgrounds that let us get the dirt on. And, did we ever!
Picture the wonderful world of make believe. For us adventuresome kids, it had it's own unique name. Mmmm hmmm. You know what. Yup.
The road let us ride bicycles like they were horses. As best friends, we rode to our favorite neighbors homes with incredible imagination in tow - usually involving something to do with The Beatles and one of their new hit songs, of course.
The front yard gave us seasonal pine needles to shape blueprints and beds of our most dreamed of homes and favorite floor plans.
The backyard extended our staging area for everything beyond what we brought to this magical world of endless outdoor hours of play.
And, oh, the woods. Aahhh, the woods. Quiet. Tall pines, fallen pines. The creek. The clay. The creaminess of it's coolness. Up to our elbow's literally in clay. Digging deep. The dirt of it's dirtness!
My recollection of anyone with an actual garden growing food to eat actually is nil. None. Not in my neighborhood. Except for Uncle Chuck who lived with his family closer to the city. Dad grew up on the farm. But, this wasn't the farm.
It was heaven on Earth for us kids growing up in a simpler time. It was home cooked and rarely TV dinners, DelMonte canned veggies & frozen fangled foods. It was what it was, and one thing it was - family at the table - always. Of course, only after our hands were washed at the sink or the mud was scrubbed off above the elbows with a before supper bath.
No matter how you get out in the dirt, and then get it out from under your nails...it was always coming together at the table to give the blessings for each other, the food, the day and the dirt.